Sequoias Adult Education Consortium Presents
South Valley Regional Adult Education Professional Development
Sequoias Adult Education Consortium (SAEC) will be hosting a professional development day for the region's adult education programs. The event will take place on August 10, 2021. It will be an all-day event with the opening session starting at 8:30 AM. This year, we are adding special evening breakout sessions for staff who cannot attend the regular daytime sessions.
Attendees may register here.
Presenters may register here.

Each year SAEC brings together its members for a joint professional development day as staff prepare for students to return to classrooms. PD topics will be provided for all types of staff. There will be sessions for classified staff, instructional staff, and administrators. Sessions on Adult Basic Education, Adult Secondary Education (including HSE and HSD), programs for recent immigrants including English as a Second Language and citizenship preparation, programs for Adults with Disabilities, and Career Technical Education will address topics like instruction decision making and curriculum, best practices in student support services, and program monitoring and compliance. All presenters are subject matter experts and experienced presenters from the field of adult education. All sessions will be virtual and recorded.
This year SAEC is opening the event to agencies outside of the Sequoia's consortium. It is free to attend. As noted above, we are also adding a special evening schedule for those staff members who work in adult education part-time and may have to attend another event during the day. To further help make the sessions accessible, all will be recorded and available later via the SAEC website at www.sequoiasadulted.com.
For more information please contact SAEC Executive Director, John Werner, at sequoiasadulteddirector@gmail.com.
Event Date: August 10, 2021

Opening Session: 8:30AM
Event Date: 8/10/21
Cost: Free
Schedule At-a-Glance:

8:30AM Opening Session
9:10AM Session 1 breakouts
10:30AM Session 2 breakouts

11:45AM Lunch

1:00PM Session 3 breakouts
2:05PM Session 4 breakouts
3:18PM Closing Session
5:00PM Evening Opening Plenary
5:20PM Evening Breakout Session 1
6:25PM Evening Breakout Session 2
Location: Some sessions may be held at SAEC member sites. Seating is limited due to COVID-19 restrictions (limited to site staff and other restrictions). All sessions will be accessible live via Zoom and later via recordings.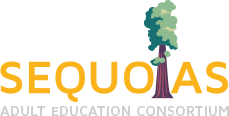 The Sequoias Adult Education Consortium is a regional organization covering parts of Tulare and Kings County in California whose mission is to facilitate the alignment and collaboration of adult education.