AEBG Information
About AEBG - The 2013-2014 State Budget appropriated $25 million to the California Community College Chancellor's Office (CCCCO) to allocate funding for two-year planning and implementation grants. The funds will be provided to eligible consortia for the purpose of developing regional plans for adult education. Click Here for the History of AB 86 and the Planning Process.
AEBG Adult Education Bloack Grant Legislative Overview - Click here for more information.
AEBG Data, Research, and Reports - Click here to view the reports.
AEBG Data and Accountability Allocations - The funding will be used to resolve AEBG data collection needs required by AB104, foster regional and local system integration, coordinate regional intake, assessment, and referral, align efforts under the Workforce Innovation and Opportunity Act, and ultimately connect to a state level AEBG Data System.  Instructions and requirements will be out the first of June.  Budget and work plans will be due by February 20, 2017. Funding is good through December 31, 2017 with a final expenditure report due in January 2018 and close out report in February 2018. Budgets, expenditures, and progress will be reported, using a separate code (15-328-XX), via the current online reporting system (used under AB86, and currently being used by AB104. Click here for Data and Accountability Allocation by Consortia.
AB 86 Resources - Click here for additional resources and FAQs about AEBG.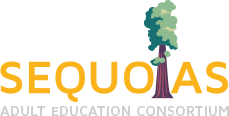 The Sequoias Adult Education Consortium is a regional organization covering parts of Tulare and Kings County in California whose mission is to facilitate the alignment and collaboration of adult education.