Sequoias Adult Education Consortium Mission Statement

The mission of Sequoia Adult Education Consortium is to facilitate the alignment and collaboration of Adult Education in the Region.


Sequoias Adult Education Consortium Vision Statement
An efficient, coordinated regional system that bridges gaps, provides seamless student transitions, and utilizes all of the assets of our area to meet the needs of both our workforce and industry by providing accessible, responsive training administered by a well-trained team of personnel (including faculty, teachers, and support staff) while also providing supports to adult learners and opportunities to accelerate students toward their education and career goals.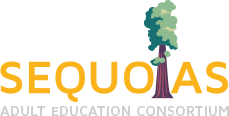 The Sequoias Adult Education Consortium is a regional organization covering parts of Tulare and Kings County in California whose mission is to facilitate the alignment and collaboration of adult education.